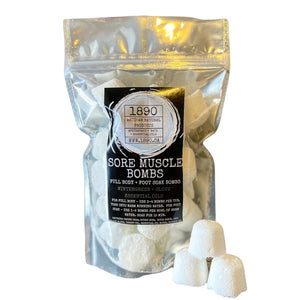 "Sore Muscle" Mini Bubble Bath Bombs (Wintergreen and Clove)
Great for your little aches and pains, also makes a great foot bath, just toss into running water and enjoy!
Cloves are packed with pain-relieving compounds and active ingredients, and its essential oil is no different. It can remove pain quickly, while also delivering antioxidants to the tissues to repair any potential damage or small tears.
The most popular health benefit of wintergreen oil is its pain-relieving effects, which can help alleviate headache, muscle cramps, joint pain, tendonitis and bone pain. Wintergreen oil also helps drive out stress and tension.
Contains: Citric Acid, Sodium Bicarbonate, Essential Oils