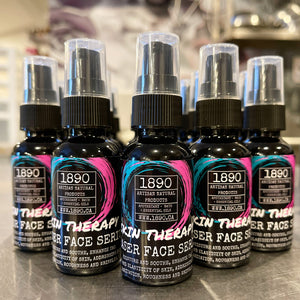 Skin Therapy Face Oil (Eraser Face Serum)
Sooth - Repair - Hydrate

Apply directly to face and rub in circular motions to allow maximum absorption.
Formulated with evening primrose oil, which is well known to contain high levels of linoleic and gamma-linolenic acids, which are essential to healthy skin. It also contains calendula oil which is a renowned skin care oil that helps to soften and soothe dry skin. A great choice for those with sensitive skin and sensitivities to scent.

• Immediately Perceivable Results
• Excellent for Problem Skin
• Increases moisture content naturally.
• Soothe dry irritated skin
Contains:  Sunflower Oil, Olive Oil, Fractionated Coconut Oil, Evening Primrose Oil, Calendula Oil, Sweet Almond Oil, (and) Vitamin E.