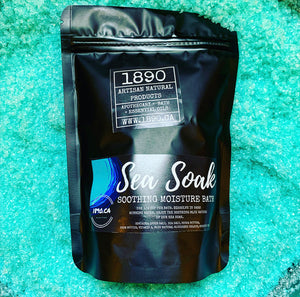 Sea Soak - Natural Moisture Bath (Ocean Blue)
Epson Salt and Sea Salt infused with Essential Oils, Shea Butter and Coconut Oil. Use to soften and smooth dry skin. Use 1/3 cup per warm bath.
 Ingredients: Water, Epsom Salt, Sea Salt, Shea Butter, Cocoa Butter, Coconut Oil, Essential Oil Blend, Colour created with natural fruits/vegetable based powder exclusive to 1890.