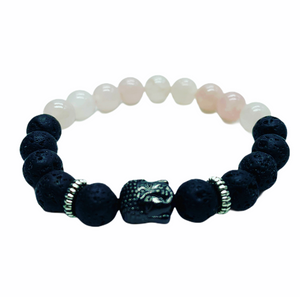 Essential Oil Bracelet (Lava Bead + Preciouse Stone )
This stylish aromatherapy lava rock bracelet is a sure way to combine fashion with function. Enjoy the benefits of essential oils and look great doing it with this beautiful bracelet.   Add a few drops of your favourite essential oil to the lava rocks and allow the oil to absorb. Wipe any excess oil off any part of the jewelry that isn't the lava rock. If the scent isn't strong enough, simply add a couple more drops and enjoy your scent throughout the day. 
♥ Unconditional love ♥ Self-love ♥ Mother love ♥ Caring ♥ Kindness ♥ Friendship ♥ Romantic love ♥ Platonic love

Rose Quartz is the stone of universal love.  It restores trust and harmony in relationships, encouraging unconditional love.  Rose Quartz purifies and opens the heart at all levels to promote love, self-love, friendship, deep inner healing and feelings of peace.  Calming and reassuring, it helps to comfort in times of grief.  Rose Quartz dispels negativity and protects against environmental pollution, replacing it with loving vibes.  It encourages self forgiveness and acceptance invoking self trust and self worth.
Features of this lava rock bead essential oil bracelet:  
Handmade Stretch Lava Rock Beads Bracelet with Lava Rocks +  Precious Stones.


Unisex

6 - 7 inch circumference; Fits Most wrists 

Natural Black Lava Rock Beads Bracelet for Men and Women

8mm Beads