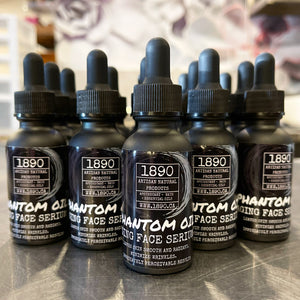 Phantom Oil (Aging Face Serum)
Skin Smoothing - Cellular Renewal - Minimize Wrinkles
Apply directly to face and leave on for a maximum of 15 min, rinse and avoid eye contact. Leaves skin smooth and radiant. Minimize Wrinkles. Brighten Skin Tone.

 • Immediately Perceivable Results
• Excellent for Problem Skin
• Increases Rate of Cellular Renewal
• Moisturizing
• Decreases Appearance of Wrinkles
Contains: Bilberry, Sugar Cane, Orange, Lemon, and Sugar Maple. These botanical extracts deliver five natural AHAs to the skin: Lactic Acid (from Bilberry), Glycolic Acid (from Sugar Cane), Citric Acid (from Orange and Lemon), and Malic and Tartaric Acids (from Sugar Maple).