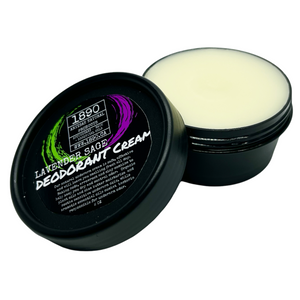 Natural Deodorant Cream (Lavender + Sage)
This truly exotic scent captivates the soul. It's a perfect blend of garden sage, fresh basil leaves, and soft lavender.
Created to replace chemical deodorant. Zink Oxide + Arrowroot poweder is an excellent detox for your skin, this amazing natural property is an excellent detox to pull out heavy metal, chemicals and bacteria within the body.  Used in combination with arrowroot to create a drying, body safe deodorant. 
Ingredients: Coconut Oil, Shea Butter, Cocoa Butter, Beeswax, Vitamin E, Arrowroot Powder, Zink Oxide, Essential Oil Blend, Colour created with natural fruits/vegetable based powder exclusive to 1890.