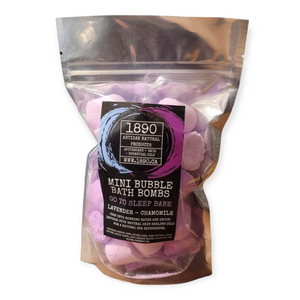 Mini Bubble Bath Bombs - Go To Sleep Babe
 A sugar delight blend of some of our favourite sweet mini bubble bath bombs.
Approximately 1 inch in size these mini bath bombs are a perfect addiction to any "tiny human" bath! Infused with soothing coconut bubbles for a delightful bathing experience. 
Contains: Citric Acid, Sodium Bicarbonate, SLSA (Coconut Bubbler), Natural Colourant, Essential Oils