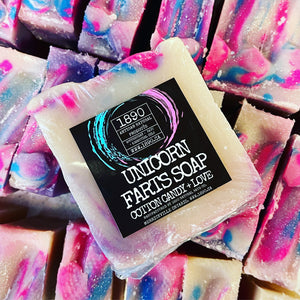 Unicorn Farts Soap (Cotton Candy + Vanilla)
A fun yet sophisticated blend of candy apple, lemon, banana, sweet vanilla, fluffy pink bubbles accord and spun sugar kissed with frosted rose petals and white musk.
Phthalate free. Paraben free.
Ingredients are renewable, ethical and locally sourced. Chemical Free, Natural Colour and Quality Therapeutic Essential Oil scented.
Sensitive Skin Safe: Built with Sunflower, Olive and Coconut Oil
Skin Beneficial: Infused with Active Sea Clay to provide moisture, vitamins and natural minerals to the skin.
Handmade in small batches for superb quality.