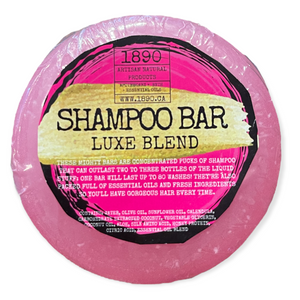 "Luxe" Solid Shampoo Bar {Bergamot, Lime & Grapefruit}
*Perfect for Normal/Oily Hair*
These mighty bars are concentrated pucks of shampoo that can outlast two to three bottles of the liquid stuff: one bar will last up to 80 washes! They're also packed full of essential oils and fresh ingredients so you'll have gorgeous hair every time.
* Made with Silk Protein and Honey Protein
* Infused with custom Essential Oil Blend
* Lightweight and Soothing to hair + Skin
It's sweet, and full of floral and fruit notes yet despite all those florals, still appealing to both sexes. The blend contains deep woody base notes, and rises to the notes of heather, jasmine and ylang ylang. The top notes include lime, grapefruit and bergamot. Overall, it's a juicy fruity floral sensation that just begs to be used! 
  *Ingredients: Water, Olive Oil, Sunflower Oil, Calendula, Carbohydrate Extracted Coconut, Vegetable Glycerin, Coconut Oil, Aloe, Silk Amino Acid, Honey Protein, Citric Acid, Essential Oil Blend, Colour created with natural fruits/vegetable based powder exclusive to 1890.