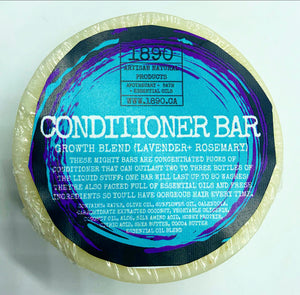 "Growth" Lavender and Rosemary Solid Conditioner Bar
Concentrated conditioner, with minimal water content, great value Long Lasting

100% Natural - no Chemicals and no plastic bottles to throw away. Last a long time compared to liquid conditioners

Great for daily use on all hair types including fine, chemically treated/colored/permed hair, Eco friendly and skin friendly ingredients.


Detangle and Condition Hair - Great For long, thick/curly, or frizzy hair

Travel Friendly!
Phthalate free. Paraben free.
  *Ingredients: Water, Olive Oil, Sunflower Oil, Carbohydrate Extracted Coconut, Vegetable Glycerin, Coconut Oil, Aloe, Silk Amino Acid, Honey Protein, Citric Acid, Shea Butter, Cocoa Butter, Argan Oil, Essential Oil Blend, Colour created with natural fruits/vegetable based powder exclusive to 1890.