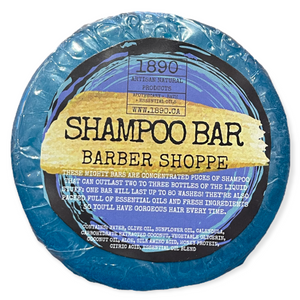 "Barber Shop" Solid Shampoo Bar
*Perfect for oily hair*
These mighty bars are concentrated pucks of shampoo that can outlast two to three bottles of the liquid stuff: one bar will last up to 80 washes! They're also packed full of essential oils and fresh ingredients so you'll have gorgeous hair every time.
* Made with Silk Protein and Honey Protein
* Infused with custom Essential Oil Blend
* Lightweight and Soothing to hair + Skin
This light, uplifting scent is inspired by the freshest elements of nature, like a floral meadow misted in early morning dew.
  *Ingredients: Water, Olive Oil, Sunflower Oil, Calendula, Carbohydrate Extracted Coconut, Vegetable Glycerin, Coconut Oil, Aloe, Silk Amino Acid, Honey Protein, Citric Acid, Essential Oil Blend, Colour created with natural fruits/vegetable based powder exclusive to 1890.