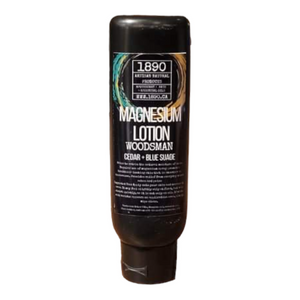 Magnesium Body Lotion (Woodsman)
Magnesium infused for joint and muscle health. Magnesium is known for its powerful ability to regulating nerve and muscle function. The most beneficial property for our skin and body health. 
All body butters have essential omega 3 fats that benefit the body. Omega 3 fats are very moisturizing and help calm inflammation. Shea is one of the more common body butters and contain vitamins A, E, and F. Shea butter has been used for years to improve hair and skin.

Contains: Magnesium Citrate, Magnesium Fumarate,Magnesium Gluconate, Magnesium Glutamate, Magnesium Lactate.
Each 1ml of lotion contains 225mg of magnesium, equivalent to 60mg of elemental magnesium.
Recommended topical intake is 3– 4 mg of magnesium per pound of bodyweight, every day. Diet and Supplement combined. 
Contains: Water/EAu, Avocado oil, coconut oil, shea butter, sodium o14-16 olefin sultanate. 6oz