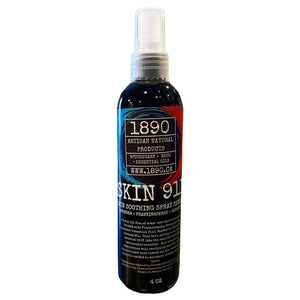 "Skin 911" Repair Spray
A spray oil free of water and other chemicals.  Created with Frankincense, Geranium and Lavender Essential Oils. Bonded to Jojoba Oil + Coconut Oil.  This skin saving spray will absorbed 100% into the skin for maximum therapeutic benefits.  This beneficial combination will revitalize the skin cell.
Supercharged with almost all the vitamins and minerals needed to maintain healthy skin and hair.
Ease the symptoms of dry skin, acne and psoriasis.
Loaded with the essential fatty acids, antioxidants, vitamin E and sterols (lipid like compounds that reduce inflammation and improve the skins metabolism)
 *Ingredients: Jojoba Oil, Lavender Essential Oil, Geranium Essential Oil, Frankinscense Essential Oil, Coconut Oil, Vitamin E, Natural Sterols.