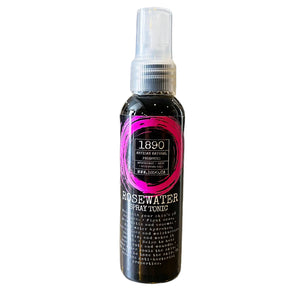 "Rosewater" Spray Tonic
SKIN: Maintain your skin's pH balance. + Fight acne, dermatitis and eczema. + Rose water hydrates, revitalizes and moisturizes the skin, and makes it smooth. + Helps to heal scars, cuts and wounds. + Rose water cools the skin. + It helps to tone the skin. It also has anti-bacterial properties. + The antioxidant properties of rose water help to strengthen skin cells and regenerate skin tissues. + The nourishing and moisturizing properties of rose water enhance the quality of hair. + It also helps to revitalize aging skin and keeps fine lines and wrinkles at bay.
HAIR: Rose water helps to treat mild scalp inflammations and dandruff that are caused by fungal infections.
HEALTH: Soothes and Relaxes Nerves + Settles upset stomach + Promotes Sleep + Air and Fabric Freshener
2oz