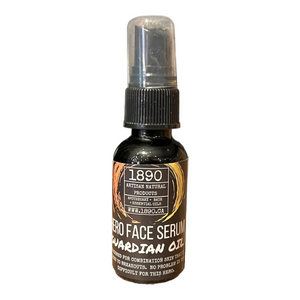 "Guardian Oil" Combination Skin Serum
Soothe breakouts- Dry Skin Repair - Hydrates
Apply directly to face and massage into damp warm skin. Used for oily, red or acne prone skin to help aid in cell renewal. Great daily addition to kill acne causing bacteria and redness. 
 • Immediately Perceivable Results
• Excellent for Problem Skin
• Increases Rate of Cellular Renewal
• Moisturizing
• Decreases Appearance of Redness and Acne. 
 1oz Bottle. 
Contains: Pomegranate, Rosehip, Tea Tree, Lavender, Argan Oil. These botanical extracts deliver five natural AHAs to the skin: Lactic Acid (from Bilberry), Glycolic Acid (from Sugar Cane), Citric Acid (from Orange and Lemon), and Malic and Tartaric Acids (from Sugar Maple).