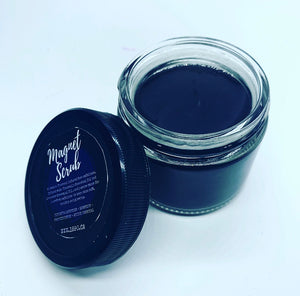 "Magnet Scrub" Active Charcoal Exfoliant
An Active Charcoal infused face exfoliant.  Infused with Chamomile Essential Oil and Lavender Essential Oil , and pumice stone for a perfect exfloian  to keep skin soft, healthy and glowing.
Active Charcoal bonds to Oils, Chemicals and Irritants.
Great for acne prone skin to remove excess oils and naturally balance skins ph levels.
Loaded with healing oils for skin cell regeneration (Lavender Essential Oil/Antiviral and Chamomile Essential Oils/Skin Boosting)
 *Ingredients: Water, Active Charcoal, Coconut Sulfate, Lavender Essential Oil, Chamomile Essential Oil, Essential Oil Blend, Colour created with natural fruits/vegetable based powder exclusive to 1890.