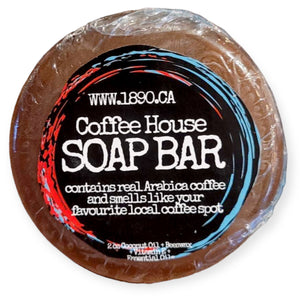 "Coffee House" Soap Bar
Coffee House Soap contains real Arabica coffee and smells like your favourite local coffee spot. This soap has a luxurious, big bubble lather and will be adored by any coffee lover. The caffeine and chlorogenic acids (CGA) contained in coffee beans can help reduce inflammation due to skin problems such as eczema, acne and psoriasis.
Ingredients: Sorbitol, Propylene Glycol, Sodium Laureth Sulfate, Sodium Stearate, Sodium Myristate, Coffea Arabica, Sodium Laurate, Parfum.
2 OZ